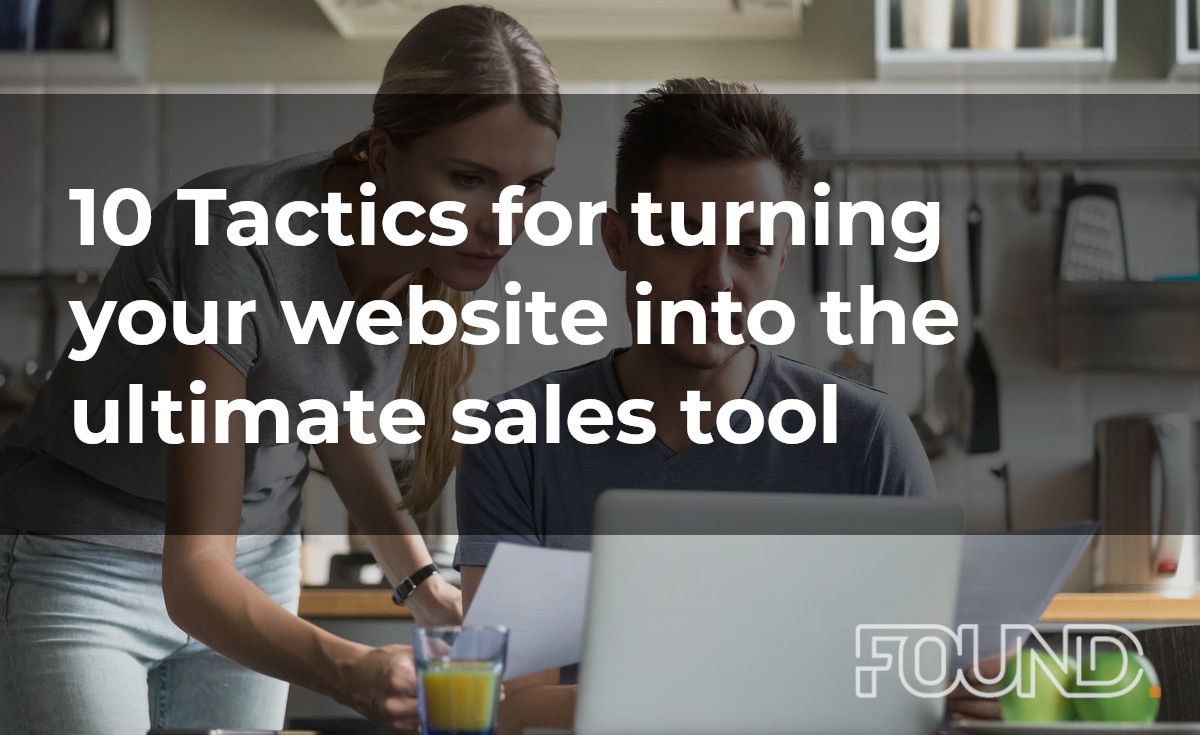 Chances are your site hasn't yet reached its full sales potential. Bottom line? It could be doing better. Read on to find out how…
Here's something you may not be aware of:
Your customers often travel a bumpy, meandering path on their journey to purchasing from your business.
First off?
They don't even know you exist!
And when they do?
They loop around your competitors, detour off into procrastination, and get lost down dead ends until maybe – just maybe – they arrive at your virtual doorstep.
Surely there's a better way…
The secret to success is in sales conversions
Getting that customer across the proverbial doorstep, or to your website, and buying from you is called sales conversion. It's the process where your customer progresses from:
Discovering that you exist…
…to thinking about buying from you…
…to actually handing over their credit card details and ordering your product or service.
Through this process, they move from being a 'lead' to becoming a 'sale'.
Making this journey more efficient is known as Conversion Rate Optimisation (CRO).
Conversion rate optimisation is a whole science in and of itself. It's a mix of understanding psychological buying behaviours along with harnessing the ever evolving digital technology and tools at your fingertips to help your business act smart and beat the competition.
In fact, CRO is a must-have strategy in the digital marketing toolbox of every savvy business.
Who doesn't want to convert more leads into sales without spending more on advertising?
It's the perfect way to save time and increase profitability.
Before you begin? It's time to take stock
Hold up there! Before racing off to apply some super smart conversion strategies, there are three basic steps to carry out first that will ensure you're maximising the benefit of the changes to come.
These are:
What is your current conversion rate?
You can't improve on what you don't know.
If you're not sure what your current sales conversion rate is, it's time to calculate the number of leads (someone who has expressed an interest in your product or service) who ultimately purchase from you.
What is your sales pathway?
The sales journey differs based on:
A product or service's price…
…whether it's 'needed or wanted'…
…and a range of other factors.
But at the end of the day, the journey to purchasing is still a process.
So, what are the contact points customers have with your business along the way?
Draw a roadmap of the journey. You may be able to identify improvements you can make to help your customer progress along the journey from awareness to interest to consideration and finally to a decision or purchase.
Converting a lead to a sale is really a series of small conversions that move your customer along the journey, with each stage needing a different strategy. (The 'Rule of 7' says it takes seven encounters before a sale).
What does a qualified lead look like for your business?
It's important to determine what qualifies as an 'ideal sales lead' for your business.
Why?
Because at the end of the day, you're aiming for quality sales.
Your time, effort, and marketing spend is best spent on a better bet.
A qualified lead could be a person who needs or uses your services, lives in a certain area, or earns a certain amount of money. It could also be a representative of a company of a certain size, who has the budget and decision-making power and is ready to sign on the dotted line.
Defining the criteria that determines a qualified lead also helps you target your ideal customer more effectively. You're better able to understand their preferred online media channels, their demographic and geographic situation, as well as their buying behaviours.
Now you're ready to implement conversion strategies for each stage of the sales journey!
The interest stage
Pique – and keep – their attention
Your potential customer has discovered you exist.
They've arrived at your website.
More than that, they're interested to know more.
The key at this stage is ensuring you maintain their interest.
Optimise your website
Crucially, your website itself should offer a user-friendly experience that doesn't frustrate potential customers and send them clicking away.
This includes:
Fast page loading times
Offering suitable imagery and tone, without jargon that could alienate your audience.
Provide a 'call to action'
Calls to action usually sit on a 'landing page'.
This is the page where people first arrive to your website, and propels your prospect along the sales journey by prompting them to engage with your business. The call to action could be an invitation to subscribe for email updates, download a free report, or request a free trial.
To create the ultimate call to action and landing page, try split testing. Trial two versions and track and compare the conversion result. Split testing lets you refine your offer by adjusting wording, images, and the offer itself until you've achieved the best possible conversion rate.
Encourage them to stay longer
Is your audience leaving your website too soon?
That's when your exit pop-up should be appearing and inviting your interested prospects to sign up for updates, offering a special offer, or reminding them that their shopping cart still contains an item.
Exit pop-ups such as these are becoming hugely popular for boosting conversion rates and they're seemingly less invasive than a welcome pop-up that interrupts your audience viewing the content they've come to see.
Automate emails
If a potential customer doesn't buy straight away, your goal is to keep your brand top of mind for when they're ready to take that next step.
Automated 'drip marketing' emails are either scheduled or activated by user-actions and emailed regularly over a period of time in order to nurture and retain leads through the sales journey.
Your business could include drip marketing emails to thank and welcome new subscribers, reach out to people who abandoned their online shopping carts, follow up ebook downloads, or even re-engage with past customers.
The consideration stage
Offer them assurances every step of the way
In the consideration stage, your potential customer is almost ready to buy but they need assurance that they're making the right decision.
At this point it's key to remove any concerns they may have, so they can make the purchase!
Give them positive proof
Testimonials and reviews give your business credibility.
And what do we know about credibility?
It enhances trust and helps your prospects make a decision, quickly.
In fact, research says 90 percent of people are influenced by positive online reviews when they're making a buying decision.
Include FAQs
Your potential customer may have a burning question but they can't be bothered scrolling through your website for the answer. Before they give up, make sure they can easily access your FAQs (Frequently Asked Questions).
For an easy way to create an FAQ, collate questions customers have asked in the past.
You could also provide a quick list of the most salient points on your website.
Offer guarantees
Buying online comes with an element of risk.
Your prospect might be wondering what happens if the product arrives damaged?
If it doesn't fit?
Or if it's a dud?
Remove the risk hurdle with a guarantee, and make it powerful and unique.
The decision stage
Be there when they're ready to buy
Your customer has decided to buy from your business.
In fact, they have their credit card in their hand…
…but there's a problem!
They suddenly have a last minute query, or found that they're stuck.
Chances are your customer could abandon your site.
Or, your chatbot could pop up and offer assistance and help your prospect make the purchase!
Ensuring the check-out process or the final purchase stage is streamlined and glitch-free is vital to completing the sales journey with a purchase.
Other helpful factors also include:
Add exit popups or automated emails
What if your potential prospect is interrupted by a friend's SpongeBob meme, or their battery running out and they abandon their shopping cart? That's when your exit popup or automated email kicks in to remind them of their half-completed purchase.
Offer them free shipping
Other simple tactics to help in the final stages of purchase include providing free shipping or, at least, offering a shipping calculator early in the purchasing process so your prospect is aware of the cost upfront.
Provide accurate timeframes
The same transparency applies to shipping timeframes!
Waiting for a product to arrive is one of the downsides of online shopping over the instant gratification of retail shopping. Be transparent around expected delivery times, and offer a tracking link so the customer has timely information about their delivery.
Make 2019 the year your sales rocked!
Implementing smart conversion strategies throughout your customer's purchasing journey will turn your website into a sales machine, without forcing you to spend extra money or time on advertising or attracting more traffic to your site.
If you're not sure where to start, or your team don't have the time or expertise, book a no-cost strategy session with the team at Found to find out how they can help you boost and optimise your sales conversion rates.