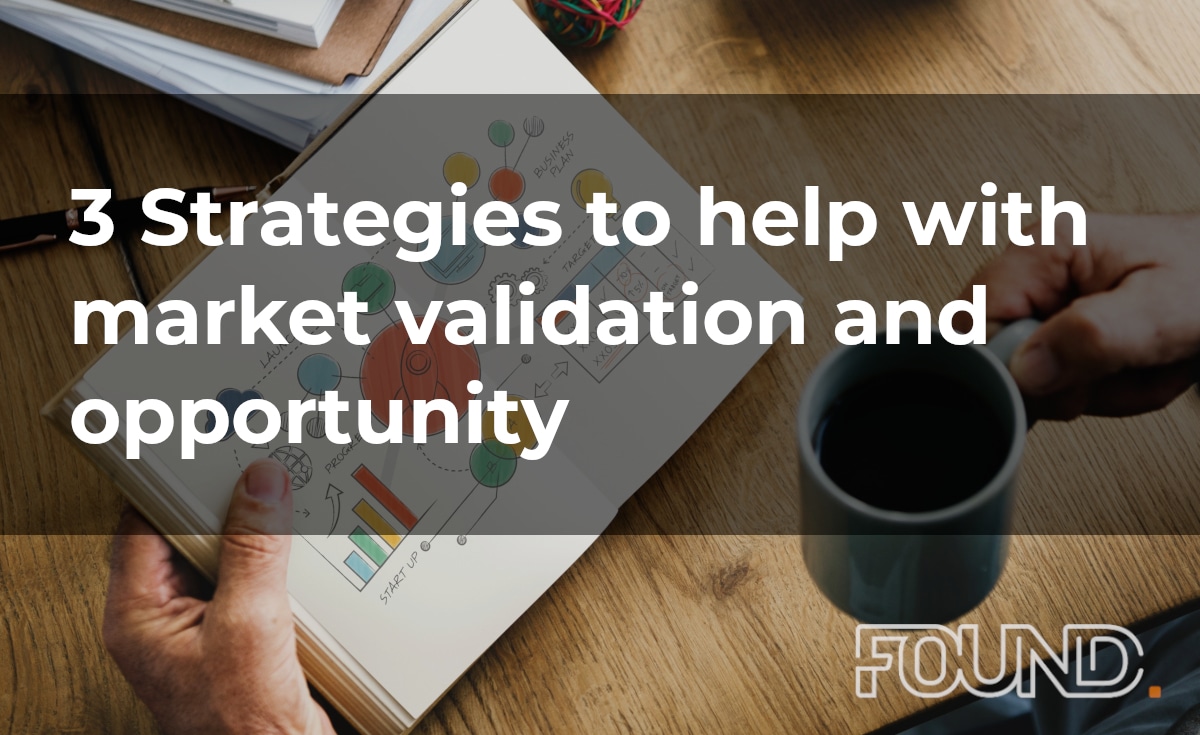 So, you have an idea for a new business.
In fact, it's more than just an idea: it's become an obsession.
Now all that's required is the time and money to transform this idea into a reality, right?
Think again.
Before you consider risking it all, instead consider the following questions:
Is there a large enough market for the products or services you plan to offer?
Do you know how best to target, reach and promote your business to these potential customers?
Unsure of the answers? That's to be expected: launching a startup can feel like a game of guesswork as much as hard work.
But it doesn't have to be!
Today we're going to guide you step-by-step through SEO for startups, which means you can take advantage of the opportunities Search Engine Optimisation (SEO) offers in every stage of the process. This will help you to:
Determine whether there's a market for your product.
Identify competitors within your target industry or niche.
Find gaps in the market that could prove a more lucrative route for your startup.
Iterate on your idea so it has the best shot at long-term success.
Effectively promote your new startup to your target market.
Sound good? Then let's get started:
1

Validate Your Ideas & Market With Keyword Research

There's something you should know about ideas:

They aren't all created equal.

Your idea might be the best thing since sliced bread. In fact, it's downright amazing! But falling in love with your own ideas also opens you up to overlooking fatal flaws that could kill your startup.

So, how do you know if your ideas are any good?

With keyword-backed market research, you can do just this.

By using these following techniques, you'll be able to test the validity of your ideas, scope out the competition, and then use this information to iterate on your ideas entirely free from risk.

This will empower you to make critical decisions about your startup in the process.

Excited to put your ideas to the test? Read on:
1. Identify Your Concepts & Their Related Keywords
Family members, friends or next door neighbours might love your idea. But are their responses the kind of data you base business decisions on?
We didn't think so!
If you really want to put your ideas through its paces, you need something tangible to test with.
But what, exactly?
Keywords!
Keywords are the words users enter into search engines like Google to find what they're looking for. By uncovering the keywords that relate to your idea and concepts, you'll be able to measure just how sought after your idea really is.
3 Easy Ways To Find Your Concept's Keywords
1. Use Keyword Research
Keyword Research is the perfect way to find relevant keywords that relate to your concept, product, industry or niche.
2. Browse User Forums & Social Conversations
By browsing user forums and social networks, you can find the words users are using in conversations related to your industry or niche.
3. Struggling for ideas? Try Keywordtool.io
Finding a few keywords? Well, that's easy!
But finding lucrative variations can prove more difficult.
Keywordtool.io is a great solution here: an online tool that helps you find variations on your keywords.
It does this by combining a given keyword with an array of other terms, which provides you with a wealth of new search terms that you may not have thought of.
Here's how:
Open KeywordTool.io.
Enter a primary keyword into the search bar.

Select which country's search engine you'd like to pull ideas from, and click on the 'Search' icon.

Tip! Different locations will return different keywords, so it's worthwhile repeating your search using a variety of locations.
KeywordTool.io will then provide you with a list of related keyword combinations.

If you've seen a keyword you'l like to research further, select these individually. Or click 'Copy All' to copy all suggestions at once.

Tip! Not all of these keyword suggestions will be relevant to your idea, but you're likely to find more than a few keyword gems in the rough.
2. Uncover Search Volumes With The Google Keyword Planner
With keywords in hand, now comes the fun part: putting your keywords – and your ideas – to the test.
We use the Google Keyword Planner to do this, and in the process uncover:
How many searches are carried out using these terms.
Related niches that may be a more lucrative avenue for your startup.
Here's how you do it:
Open the Google Keyword Planner.
Log in using your Google account, and select 'Search for new keywords using a phrase, website or category'.

Enter your list of keywords into the 'Your product or service' box.

Select a category from the 'Your product category' box.

Select your country from the 'Country' box.

Click 'Get Ideas'

We're looking for Keywords, so click on the 'Keyword Ideas' tab.

Your list of keywords will be shown, alongside their approximate search volume.

Tip! If you scroll past your keywords you'll find a list of Google's keyword suggestions, which can provide you with brand new keyword ideas.
3 Ways Search Volume Can Inform Business Decisions
The information you uncover with the Google Keyword Planner might look like a bunch of random numbers.
But the stats and figures it provides is far more than just that:
With this info, you can actually fine tune your ideas and inform crucial business decisions.
Here are a few key ways you can do exactly this.
1. Compare Volume vs Competition
Determining if there's a viable market market for your business depends on two major factors:
Search Volume
Competition
Sure, highly searched keywords might look like the green light you've been looking for. But if these keywords are within a highly saturated market, your business may struggle to gain traction.
You can see this in action below for the term 'Accounting Services':
This doesn't necessarily mean your business is doomed to fail, but aiming to target terms that strike a better balance between Search Volume and Competition can prove more lucrative.
The term 'Financial Accounting Services' is a good example of this: it has a lower search volume but is also less competitive. As you can see below:
Terms like these still provide your startup with a market, but they're also initially easier to rank for and can help you gain a foothold.
2. Iterate & Optimise Around Lucrative Keywords
It's true: your first idea is rarely your best.
But this hardly means you should throw in the towel.
In fact, this is the perfect opportunity for you to iterate on your idea.
What do I mean by this?
Let me explain:
While you may find your current idea uses keywords that aren't sustainable, related terms may exist that are far more lucrative. By finding these terms you can stumble upon:
A related market that's crying out for a startup like yours.
Products that the market is actually looking for.
The exact phrases and terms they're using to find them.
With this information, you can iterate on aspects of your idea to better target competitive keywords within a more viable market. This includes:
Your business or product name.
Your slogan or catchphrase.
The services or products you're offering.
An Example Of Iteration In Action
A tech startup is looking to launch their new App.
How exciting!
Their App is pretty great, too: it helps people manage their cash.
Through numerous late-night brainstorming sessions, they've finally landed on a name: iCash – The Cash Management App.
A quick search with the Keyword Planner, however, shows that this term is hardly searched for:

Game over, right?
Not so fast!
Through this research, they were able to find a related phrase that's not only relevant, but is also less competitive and highly searched:

It's in situations like this that market research and validation truly help you to tweak your ideas, your naming schemes, and target markets you may have missed.
3. National vs International Keywords
Do you plan on cornering a local market?
Or do you have grander dreams of world domination?
The market you plan to target can impact everything from the keywords you use to promote your products through to the potential size of the market itself.
Why?
Because search volume doesn't always equate to commercial intent.
So how do you know if users are looking to make a purchase?
Location variant keywords are one such way. These are keywords users use when searching for something within a given country, state or city. As you can see below for the term 'Accountant':
When users search like this? It's proven that they're far more likely to be looking to make a purchase or enquiry.
And the benefits don't end there.
Some local searches have higher search numbers than their generic counterparts, and are often much easier to rank for. Which you can see below for the term 'Upcycled Furniture':
So when it comes to market research, keep an eye out for location-based variations of your keywords. You'll be surprised at what you find.
2

Analyse Current Market Trends & Competition
1. Track The Market With Google Trends
What if I told you there was a way to know if a given market was on the rise, holding steady or on the decline?
Sounds too good to be true, right?
It just so happens that we can use Google Trends to do just this. With it you can easily track keyword trends and ensuring a market that's here today isn't gone tomorrow.
Here's how:
Open Google Trends.
Enter a keyword into the search bar.

You'll be presented with a graph displaying that keyword's activity over a period of time.

Want to see how this compares to other keywords? Select 'Add Term' and enter a new keyword.

By tracking your keywords in Google Trends, you can monitor the increases or decreases in search volume over days, weeks or even years. And in turn track the potential growth – and viability – of a given market or product going forward.
2. Scout Out Competitors Within Your Niche
So you've found a market that's booming. In fact, it's growing by the day!
But just because a market exists doesn't guarantee future success.
As a matter of fact, without scouting out existing competition you could find yourself up against established businesses, franchises and corporations that will make your task that much more difficult.
When it comes to finding these competitors? All it takes is a Google search.
Open Google.
Enter a keyword related to your product, business, industry or niche.

It's really that simple!
What To Look For When Scouting Out The Competition
Here's something that might surprise you:
75% of searchers never make it past Google's first page of results.
So when you're scouting out the competition, concentrate on this first page. It's here that you'll find the primary competitors within a given market.
While browsing these results, you should look for:
Big Name Brands And Websites
Highly searched terms are often highly competitive. A key indicator of this is the presence of big name brands, businesses and websites. As you can see below for 'Accounting Software':
While it isn't impossible to outrank and outperform these big names, established brands and websites can be harder to beat.
Low Quality Competitors
They say you shouldn't judge a book by its cover.
And the same goes for your competitors!
So look beyond the search results page and examine these sites in more detail. Looking for:
Sometimes you'll find that many potential competitors are only partially related to your business. They could even be of a lower quality, which makes them that much easier to outrank!
3

Promote Your Startup

'If you build it, they will come' may sound inspiring.

But when it comes to marketing your business?

So instead of sitting back and waiting for the customers to roll in, get out there and promote your startup. It's the key to unlocking your potential for future growth.

And with a wealth of content marketing and promotion methods available to you right now, there's simply no excuse not to.
1. List With Local Business Directories
As we've discussed, local traffic is lucrative for any business.
A great way to tap into this traffic and kickstart your local SEO is listing with local business directories. Directories that help to increase your visibility within those all important local searches.
How To Find Business Directories Within Your State, Country or Region
Open Google.
Enter any of the following terms into the search bar:
Business Directory + [LOCATION]
Business Directories + [LOCATION]
List My Business + [LOCATION]
Tip! Business directories aren't just limited to locations. In fact, you can find numerous business directories devoted to a given topic, industry or niche. Which can provide a worthwhile boost to your SEO in its own right.
To find these? Simply swap out the [LOCATION] with a keyword related to your business, industry or niche.
Check to ensure the business directory is a quality one, and then list your business.

2. Build Brand Awareness With Guest Posting
Guest Posting is one of the best ways to
Promote your startup
Build brand awareness
Establish yourself as a thought leader within your niche.
These are all powerful factors when it comes to marketing your startup.
3. Obtain Product Reviews From Sites & Blogs
Here's a stat that might surprise you:
67.7% of users say that their purchasing decisions are directly impacted by online reviews.
So how can you take advantage of online reviews to promote your startup and its products?
I'm glad you asked!
By reaching out to sites within your niche and providing them with access to your products in exchange for a review, you can quickly and easily build positive press. As well as boost awareness among an established audience that are interested in the products you're selling.
3 Simple Steps To Obtaining Product Reviews
1. Find Your Review Targets
Enter any of the following search terms into Google, replacing [PRODUCT] with the name of your product or product type.
[PRODUCT] + blog
[PRODUCT] + reviews
[PRODUCT] + submit for review
[PRODUCT] + intitle: review
Tip! Don't forget YouTube! Unlike Guest Posting, your targets aren't just limited to blogs. It can also be worthwhile to seek out YouTube channels that are both relevant and have a high number of views.
2. Offer Your Product For Review
Found a list of quality sites that review products? Reach out to them and let them know about your products.

When doing so, remain concise and focus on telling them what makes your product unique. As well as why it's something their audience might be interested in.
3. Obtain Your Review
Once a site has said yes, send your product out and wait for the review to go live. During this time, ensure that you're available to answer any questions the reviewer may have.
4. Press Releases
It's true: Press Releases don't offer the same SEO value that they once did.
But this doesn't mean they're not still an effective way to promote your new startup.
So when it comes to writing your press release? Leave the PR speak on the cutting room floor. Instead, provide outlets with a personality-driven, informative take on your latest announcement.
Now It's Time To Put Your Ideas To The Test!
Armed with the techniques we've discussed today, you're now ready to put your ideas to the test and find out just how viable they are. And from there? Tweak, iterate and fine tune them to give your new startup the best shot at becoming a household name.  
Just be sure to remember us when you hit the big time!…
Do you have any examples of ideas you've fine-tuned with these SEO techniques? An SEO-informed startup success story? Or maybe even a go-to market validity technique of your own? We'd love to hear from you.