How To Outrank Your Competitors In Google Search
Outrank your competitors with the exact strategies we've used to rank our clients above sites like Samsung, Amazon, and even Wikipedia!
It's one of the most common questions we're asked by businesses:
"How do I outrank my competitors in Google?"
The answer is…
…well, it's complicated.
We know that's not the answer you were hoping for, which is why today we're sharing the exact strategies we use to help our clients outrank their closest competitors.
These proven strategies include:
Going toe-to-toe with your competitor's branded terms.
Finding terms your competitor isn't targeting and using them to your advantage.
Turning your competitor's rankings into hundreds of link building opportunities.
Let's get started.
(Just here to build links? Click here to jump to our step-by-step guide.)
Download The FREE NZ Directory PDF & Spreadsheet!
There are so many business directories in this list that it can be difficult to know where to start…or to keep track! Click the 'Download Now!" button below and we'll send you:
3 BONUS tips for maximising the SEO benefits of your listings!
The complete guide in .PDF format – that's everything on this page.
An .xls Spreadsheet to organise and track your directory submissions.
A checklist of every business directory organised by Domain Authority (DA), DoFollow Links, and Multiple Links Per Listing so you can start with the directories that provide THE MOST value, fast!
Why Is Outranking The Competition So Important?
Let's answer this question with another:
"Do your competitors outrank you in search?"
If you said "Yes", here's why it makes such a difference:
If your competitors outrank you, they're taking more of your traffic, leads, and sales.
How Do I Identify My Competitors?
Your closest competitors are only a search away!
Sure, it may bug you that your competitors are ranking so well in search…
…but in doing so, they're not exactly difficult to find. This makes it easy to identify who they are, the terms they're ranking for, and use their high search placement against them to quickly and easily build your site's authority (more on this later!).
Here's the easiest way to identify your competitors:
Open Google.
Enter a major keyword related to your product, service, industry, or niche:

Make a note of the top results that appear in search:

Wait, so what should I be looking for here?
We already know Google's first page holds all of the clicks.
So when you're scouting out the competition, concentrate on this first page.
This is where you'll find your primary competitors as well as quick-win opportunities that could give you the upper-hand. While browsing these results, you should look for:
Big name brands & websites
Highly searched terms are often highly competitive.
A key indicator of this is the presence of big name brands, businesses, and websites.
You can see this below for 'Accounting Software':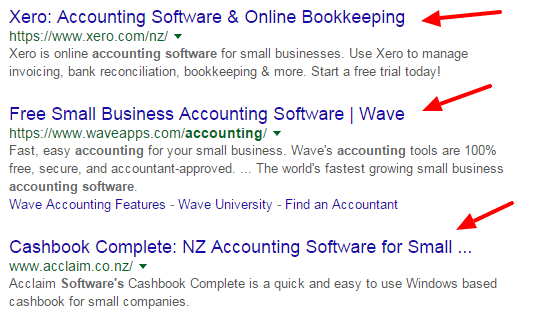 We're not saying it's impossible to outperform these big name brands and sites…
…just know that they will be harder to beat.
Low quality competitors
You shouldn't judge a book by its cover.
And the same goes for your competitors!
Look beyond the search results page and examine these sites in more detail for:
The website's quality and its content.
How relevant it is to your business.
Sometimes you'll find that potential competitors are only partially related to your business. They could even be of a lower quality, which makes them easier to outrank!
Before You Continue…
Jot down any common names you see in your searches. Competitors will vary depending on the keyword you enter, but you're likely to find a few that we will use to find hundreds of link building opportunities later in this guide!
How Do I Know What Keywords My Competitors Are Using?
Finding all of your competitor's keywords can be tricky.
The easiest way to do this is to manually search for terms you think relate to your – and their – business, but it isn't the fastest way, either. You're also likely to miss lucrative terms your competitor may be targeting that you don't even know about.
Thankfully, there are a number of free and paid tools that make the process easy.
We've explored some of the most popular options below:
SpyFu
Open SpyFu.
Enter the URL of a competitor into the search bar and hit Enter:

Click on "SEO Research" and then "SEO Keywords" in the top menu:

SpyFu will show you a list of your competitor's terms, including their placement:

The site only displays the first five results – you'll need to sign up to see the rest.
Neil Patel
Open Neil Patel's Ubersuggest.
Enter the URL of a competitor into the search bar and hit Enter:

Ubersuggest will show you a list of your competitor's terms and their placement:

The site displays the first twenty results – you'll need to sign up to see the rest.
Ahrefs
Open Ahrefs' Site Explorer.

Note: You will need to sign up for a 7-Day Free Trial account. We'll be using Ahrefs again later, so it's worth a go!

Enter the URL of a competitor into the search bar and hit Enter:

Click on "Organic Search" and then "Organic Keywords" in the menu on the left:

Ahrefs will display a list of the keywords the site is ranking for including monthly search volume, position, and the URL of the page that is ranking for the term:

SEM Rush
Open SEM Rush.
Enter a competitor's URL into the search bar, select your country, and hit Enter:

SEM Rush will ask you to create an account or log in to an existing one. It's free!
Click on "Organic Research" in the menu on the left:

The site will display a range of organic search information, including the site's top 7 organic keywords. Click on "View all X organic keywords" to view more – you'll need to sign up for a paid account to see all of them:

SE Ranking
Enter the URL of a competitor, select your country, and click Analyze:

Scroll down to the "Organic Keywords" section and click on "View Detailed Report":

SE Ranking will display a list of the keywords the site is ranking for including the terms, position, and monthly search traffic:

The site displays the first ten results – you'll need to sign up to see the rest.
3 Proven Ways To Rank Above The Competition In Google Search
1

Fight them on their own (branded) terms
So, here's a question for you:
When's the last time you ordered pizza online?
We swear, this question is relevant! You'll see how shortly…
…but for now, let's take a look at what happens when you search for Pizza Hut:
Do you see it? Ok, so it's not hard to miss…we did highlight it for you.
One of the first results isn't for Pizza Hut at all, but rather competitor Domino's.
This isn't a one-off. In fact, it's repeated across a variety of terms in a number of industries. From "vs" terms like "Oral B vs Philips Sonicare":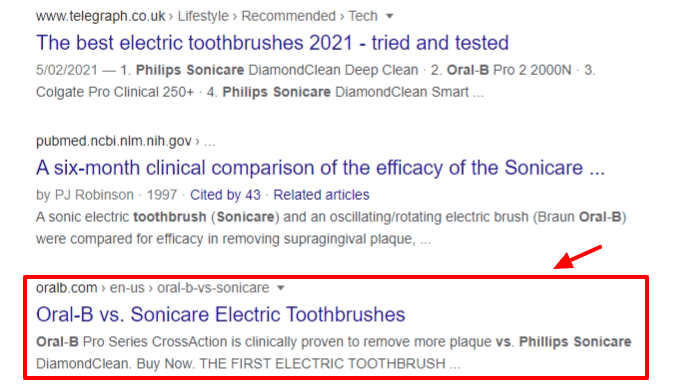 Through to "or" terms like "Samsung or Apple":
So, why is this happening?
More than that, how can you leverage this for your business?
Why brand terms are a great source of traffic
Competitor terms are, well, competitive…
…they're also a proven source of traffic which makes them a juicy search target.
How so? Let's wrap back 'round to our first example:
Here's how many people search for "order pizza online" in New Zealand every month:
Now here's the results for "pizza hut":
The difference between the two is pretty staggering!
To be fair, this big a difference in search volume may not carry over to your own terms – we doubt 206,000 people are searching for a local dentist, for example! – but the 'takeaway' here is the same:
Branded terms are often worth ranking well for.
Let's find out how…
How can I capture more of my competitor's branded customers?
1. Use Google Ads to get involved in the conversation
It's time!
We're going to turn you into the Domino's of your niche.
Which is to say, we're going to help you target your competitor's terms via Google Ads.
Domino's is unique in that it doesn't rely on long-form content or landing pages. Instead, it simply pays – likely a fair bit! – to appear in Google Search whenever someone in New Zealand searches for Pizza Hut.
Doing the same thing with your competitors and their terms is relatively easy.
Check out Google's own 'Your guide to Google Ads' to get started.
Keep these things in mind when setting up your Ads campaign
2. Create 'VS' content for long-term search success
So, you've gotten their interest…
…now it's time to talk directly to their interests with a specialised landing page.
Remember, you already know what they're searching for, so it's going to be that much easier to design a high-converting page that tells them why you're the better choice.
The "Oral-B vs Philips Sonicare" search we highlighted earlier is a great example of this:
Oral-B's Landing Page wastes no time getting to the point…
…in fact, before you scroll down the page it's grabbed your attention with:
A relevant heading – "Oral-B Crossaction Series VS. Philips Sonicare".
A bold claim – "Proven To Clean Better Than Philips Sonicare Diamondclean".
They're not selling you on just any electric toothbrush…
…they're selling you on their electric toothbrush.
We're willing to bet the conversion rate reflects this fact, too!
Keep these things in mind when setting up your landing page
How Do We Know This Works?…
…because we used it for one of our clients!
When this client came to us, they were locked in battle with a competitor.
The solution? Fighting them on their own (branded) terms! By creating a dedicated 'VS' landing page – as well as a Blog Post – we were able to tap into the competitor's traffic. The result?
Thousands of visitors & tens of thousands of dollars of additional sales:
In fact, these two pages are the site's third and fourth highest converting pages right behind the Home Page and Product Page. The site also regularly outranks its major competitor for its own brand name.
This is just one example of what's possible when you target competitor terms.
2

Use your competitor's rankings to your advantage to land links
What if I told you…
…there's a silver lining to every competitor that ranks above you?
It's true! Competitors who outrank you in search are usually there because:
Sometimes it's that they have better content.
Other times, it's that they have a better product or service.
More often than not, it's that they have more – and higher quality – backlinks.
They've obviously put in the hard work to land these links.
Now it's your turn to make the most of them and boost your search rankings.
How to use Link Intersect to outrank competitors
Competitors are your #1 source of link building opportunities.
It's true! You can easily turn their backlinks into your backlinks.
So, how do you do this? Welcome to a strategy known as Link Intersect.
Link Intersect lets you use your competitors' rankings to your advantage by looking at all of the linking opportunities they use that you don't. It's one of the quickest, easiest ways to build your site's authority and improve its search rankings.
Here's how it's done:
Check your competitor's backlinks against your own
Refer to the list of competitors you wrote down earlier in this guide.
Next, open AHREFs' Link Intersect Tool.

Note: You'll need to sign up for a 7-Day Free Trial account. We used Ahrefs earlier, so you should still have access to this tool! Otherwise, you will require a subscription.

Paste your Competitor's URL into the first text box beneath 'Show me who is linking to these domains or URLs'.

Paste your site's URL into the first text box beneath 'But doesn't link to (optional)' and then click on 'Show link opportunities':

AHREFs will return a list of opportunities your competitor is using that you aren't:

Sort through and identify quality opportunities
Now it's time to sort through the list and find the hidden gems for your site:
Starting from the top of the list, click on the number in the fifth column from the left. This column is usually headed by the Competitor site's URL:

This will display all of the pages on the site that currently link to your competitor:

Click on each of the links listed on the left-hand side, beneath 'Referring page'. This will take you to the pages on this site that currently link to your competitor:

Examine the pages that link to your competitor, and the site itself as a whole.

In this example, here is the section that links to the competitor:

Taking a look at the site as a whole, it looks like this is Xero's New Zealand website linking out to winners of their local awards:


When examining each site like this, you need to decide:

If the site is relevant (i.e. could it realistically be used for a link?). For example:

Is it a business directory that you could list your business with?
Is it a site within your niche that you could also Guest Post with?
Is it a forum within your niche that you could also post in?
Is it a PR, sponsorship, or partnership – such as the example above – that you might also be able to pursue?
And so on and so forth!

If the site is of a high enough quality (i.e. is it a spam site?).

The site's DR is above 15.
Does not include spam.

As an example, the above opportunity might fit. You'd just need to be lucky enough to win against your competitors in Xero's local awards! That said, there are far more opportunities than just this one in the link intersect list.

Do this for each of the sites in the list that match the requirements above.
Make a list of the relevant opportunities, and then start building links!
How to use these linking opportunities to your advantage
3

Make the most of your competitor's broken links
Whether a page has changed, moved, or been removed, broken links are inevitable.
Fixing the odd broken link is easy, but once a site is big enough?…
…They start to slip through the cracks. Your competitor's lack of time is your opportunity. By reaching out to sites that have broken links to your competitors, you can suggest your site as a replacement.
This is a super effective way to build backlinks from proven, quality sites.
Here's how it works:
Open AHREFs' Site Explorer.
Paste a competitor's URL into the text box and hit enter:

Click on 'Broken' beneath the Backlinks section of the left-side menu:

AHREFs will return a list of all of the external links to the site that are broken:

Sort through the list of broken links in the same way you did the Link Intersect opportunities earlier, looking for links within Blog Posts, Articles, Resource Lists, and other similar pages:

Reach out to each site that includes a broken link using the first template below. If you receive a reply, follow up with your pitch using the follow-up template!
First Email
Title
I found a broken link on [SITE NAME]

Message
Hi [CONTACT NAME],

Just a quick email to let you know I found a broken link on [SITE URL].

Do you still update older posts? Let me know and I can send through the page!

Thanks.
Follow-Up Email

Title
Re: I found a broken link on [SITE NAME]
Message
Hi [CONTACT NAME],
Thanks for the reply!
I found the broken link here: [URL THAT CONTAINS THE BROKEN LINK].
It looks like it links to a page on [COMPETITOR SITE NAME]?
We've recently [YOUR PITCH], which I thought might make a quick and easy replacement if you're updating!
Thanks again.
Outranking your competitors is possible
With the right strategy you can turn your competitor's high search rankings into your best opportunity! If you want more ways to support your site check out our guides or request a strategy session and learn how Found can help you outrank your competitors and maximise your traffic, leads, and sales in the process.