Enter the New Year with a new set of objectives that will ensure your website helps you reach your business goals over the next 12 months.
Are you ready for SEO changes in 2021?
A well-defined SEO strategy and objectives for your e-commerce brand is essential to generate organic site traffic, quality leads, and brand exposure.
Choosing the right goals and objectives is the first vital step in your digital marketing plan. According to stats, SEO can drive 1000% higher traffic than social media (AHREFS). But this can only be achieved when you have a good plan and realistic objectives in place.
With any planned efforts, knowing your goals and working directly towards them saves you time and money, and makes it that much easier to start on track to increase website traffic, build your brand, and improve your revenue and sales.
Five fundamental steps to building solid SEO objectives for 2021
Here are five important steps that every business owner must understand before developing objectives for the next year. Work these into your marketing strategy and you'll give yourself the best shot at achieving success!
1

Knowing your audience

A common SEO objective is to create content and make it discoverable.

But who are you trying to reach?

Search engine success begins with reaching out to the right people. By definition, the target audience consists of a group of people who you are trying to reach. You can provide true value to them only when you study them deeply – their pain points, unmet needs, interests, and preferences.

I have listed down a few ideas that can help you with this.
1. Use analytics
Start by researching what content they are engaging with the most. Check analytics platforms such as Google Analytics, as they will tell you a lot about your visitors, including which pages and blog posts generate the most traffic.
2. Social listening
Social listening is the act of scouring social media platforms for the chatter around your brand. The beauty of this tactic lies beneath the fact that you get the opportunity to uncover natural conversations that usually go unnoticed.
The social listening process encompasses two steps:
Step 1: Monitor all of your social profiles for mentions of your brand, products/services, rivals, and relevant keywords.
Step 2: Evaluate the information so you can put it into action. For instance, respond to a happy customer, answer a question, or meet an unmet need.
Social listening allows brands to engage with followers that lead to real connections. For example, customers might tweet about how much they like your product or ask you to resolve a query. See below how Nike has set up a separate Twitter account for responding to customer support issues.
3. Study your rivals
A search evaluation for your direct competitors via search engine results pages is always a good idea because it tells you what your audience is searching for, what competitors are doing, and what Google thinks are the most relevant answers.
4. Gather demographic data
Third-party applications can help you track visitor site behavior and help you build audience segments.
5. Use chatbots for market research
If you want a more straightforward solution, then send out a survey but make sure it is short and sweet so that they don't even realize that they are taking a survey. Check out the following example:
2

Relevant content is quality content

Once you've identified your target audience, focus on curating quality content.

But how do you define quality content?

By quality content, I mean content that is relevant, useful, and adds value for the reader. If you can use your content to make a user think that it is produced especially for him, you nailed it. Good content also breeds loyalty and engagement as subscribers look forward to your content.

For example, a site looking to promote their essay buying services in the UK would create Blog Posts and other relevant guides on essay writing including how to make a strong opening statement, the best way to write a conclusion, or how to format your references.

Check this tweet by Doug Kessler, co-founder of B2B marketing agency Velocity. I totally agree with this guy. No matter how much funny, smart, or technical content you produce, if it doesn't resonate with your audience, it isn't quality.

Here are some tips every marketer can use to produce valuable content:
The preferred format: Know the dominant content format of social media platforms. Instagram is predominantly about images and videos, while Twitter uses 280 characters of text.
Set up a blog: It is an incredible way to build industry authority. For example, there is a 131% chance for consumers to buy your product after reading instructional blogs.
Link building: Quality content automatically gets the attention of high authority websites. It means you can earn links, rank high on Google, and drive more traffic to your site.
Make content shareable: Quality and viral content comes with high shareability, but word-of-mouth is quite different today. If you want to amplify content distribution, add social sharing buttons.
Add plentiful internal links: Add links to service pages on your website so that users are able to navigate the site with ease and get focused information about the product, services, and information they're looking for. Here is an example:
3

Taking care of your readers with ultimate UI/UX

UI = User interface

UX = User experience

Both are important for SEO in their own ways. Here's how:
1. First impression matters
Good SEO practices help drive high traffic, but UI/UX lets you create a great first impression. You can't expect high traffic without serving user intent. Try to ensure that search engine and end-user interests are aligned.
2. Importance of web design
Quality content serves the goal of attracting traffic to the site; it is the aesthetics that keeps them on the site for a longer period. This is what a graphically appealing site can do for you:
Professional website design instantly captures visitor attention.
Improves readability.
Instill strong emotions (e.g. picking colors based on their meanings). For example, a lot of fast-food brands use red and yellow colors for their logos and website design, as both colors stimulate mental activity and encourage people to take action.
Web design affects SEO as it is a starting port of your customer journey. Mobile optimized sites increase responsiveness which facilitates a superior user experience.
Use SEO friendly URLs, Meta tags, and Alt tags to enhance SEO results.
A great website hack for high leads is adding testimonials on your page as it garners trust.
4

Leverage video marketing for better engagement

Without a doubt, videos and images increase user engagement. They are known for increasing user experience and time spent on site. Here are some compelling video marketing stats that may motivate you to produce more video content.

Here are some rules for video marketing to amplify SEO success:
1. Tailor your video content
Create video content by keeping in mind the people searching for it. Add SEO relevant keywords in your title and description. There are multiple online tools that can help you with keyword research. A few examples include:
2. Go live on social platforms
If you want to announce a special discount deal or launch a new product, go live on video streaming platforms like Facebook, Instagram, or Snapchat.
Take some inspiration from Benefit, a cosmetic brand running a weekly Facebook live session 'Tipsy Tricks with Benefit'. The guest and a host choose a beauty topic and share tips and suggestions while answering questions.
Live videos can let you show the authentic human side of your brand. It lets you communicate directly to your audience, answer their questions, and discuss your products and services.
5

Talk with influencers & industry leaders for amazing content

If you are intent on tapping a wider market by creating a credible image, then leverage influencer marketing. This is when brands partner with influencers (individuals with the power to affect consumer behavior and buying decisions) to co-create content and support a brand.

Numerous studies highlight that the quality of traffic and customers you get from influencer marketing is exceptional. The reason is straightforward: 'People trust people more than brands'.

This is what marketers think about influencer marketing: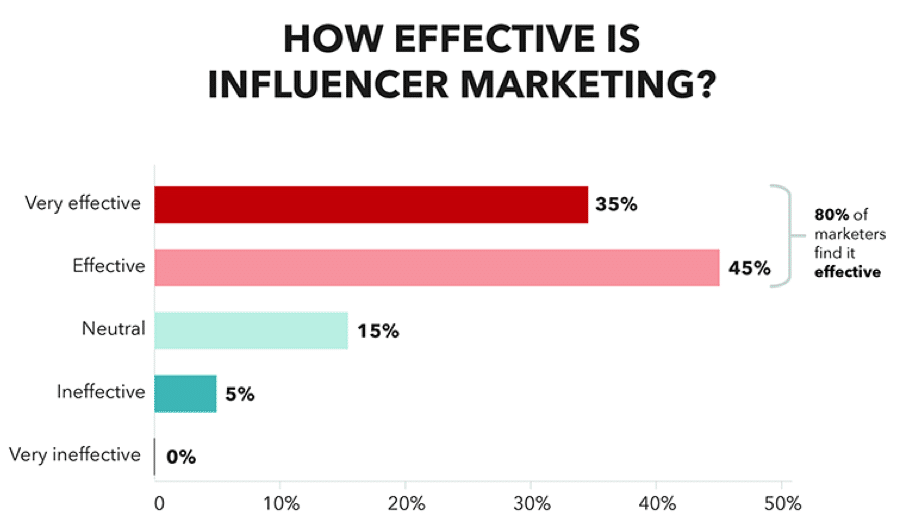 The content produced by influencers and industry experts is believed to be authentic and trustworthy. So, this is your opportunity to borrow their influence and improve your brand exposure and SEO results.
The most effective content marketing platform for influencers is Instagram (89%), followed closely by YouTube (70%), Facebook (45%), and Twitter (33%).
How to get the most out of influencer marketing
Identify the right influencers: Not every social media star will work for you. You need to identify the right influencers in your niche with high engagement rates. For instance, check if they have more retweets, shares, and comments.

Are you thinking "Is it worth your time and effort?"

Kylie Jenner is an American media personality and highest-paid influencer on Instagram right now. She posted this selfie for this hair health company and helped the company reach 96.7M followers.
Co-create the content: Whenever possible, try to co-create the content. This means that influencers will have more active participation in your brand-specific content. You can invite them to contribute to your blog or just share your ads and content on their profile.
Run contests with them: User-generated content serves as social proof and improves brand reputation. It is a great content strategy that enables influencers to promote an environment of engagement.
The take-home message
Now is the perfect time to define your SEO objectives. I understand that developing a robust SEO plan isn't easy. If it were, brands wouldn't need digital marketing experts to figure out the objectives.
But the thing is, there is no cookie-cutter approach to the SEO marketing field. This means that you have ample opportunity and freedom to create objectives considering your customers, products/services, competitive environment, and other business needs.
Author Bio
Claudia Jeffrey is working as a Sr. Research Analyst & Digital Evangelist at Crowd Writer, a website that offers essay writing services in the UK. She has worked for many renowned websites and shares marketing tips on her social profile. Her keen interest in writing allows her to create content that people actually want to read.