SEO Guide for New Zealand Businesses
Search engine optimise your website in 17 steps and grow your sales.
Tired of poor marketing results? Use this search engine optimisation guide to optimise your website and kick-start the process of generating new sales leads from qualified prospects.
Why Is Search Engine Optimisation Important?

Did you notice the counter above?
Okay, I'll admit, it's a hard number to miss.
On any given day, this is the running total of searches being performed with Google.
That's:
58,082 searches a second.
3,484,920 searches a minute.
1,826,655,667,200 searches a year.
Every one of those digits is a potential customer actively looking for information, products or services online.
In this guide I'm going to show you exactly how you can use your website to scoop up this traffic and convert them into leads and sales that drive profitability for your business.
So ask yourself…
Are people finding your website when they search? If the answer is no, then you're missing out on the opportunity to:
Talk to them.
Inform them.
Sell them on your products or services.
It gets worse…
If you're not, then there's always another business out there who is talking to them instead.
A business that is maximising the potential of their website as a sales tool, increasing lead generation in the process, and spending less to do so.
By optimising your website for search, you too can quit throwing money at standard advertising channels that shout your message to a disinterested audience.
Instead, you'll be appearing in searches, discussions and conversations that active and interested customers are taking part in right now.
So what are you waiting for?
Time, and those searches, are ticking!
How This Guide Will Help You
So how does your business do this? How do you tap into these searchers?
With this guide, I'm about to tell you how.
So forget the technical jargon.
Skip the boring theory.
From here on down you'll only find actionable, effective steps specifically tailored to increasing the visibility and effectiveness of your business website.
By the time you've reached the end, you'll start to:
Increase your business's marketing return on investment (ROI)
Generate targeted website traffic, increase sales and maximise lead generation
Turn your business's website into an effective sales tool
Your journey to optimising your website for search starts now!
So, What Is Search Engine Optimisation (SEO)?
Search Engine Optimisation is known for being full of technical jargon.
Today? I'm changing all of that…
I'm here to tell you that SEO doesn't have to be difficult.
Unlike Google AdWords, Search Engine Optimisation increases your natural, organic visibility in search engines for targeted search terms and phrases (Keywords).
If done right, this can boost traffic, lead generation, and sales for your business better than any other form of marketing (Yes, including television!).
This makes SEO a vital tool for any business with an online presence.
Keep reading to kickstart your SEO journey.
3 Simple SEO Concepts You Need To Know
The Google Search Result
One of the best places to learn about SEO is so obvious it hurts…
The answer?
Google's very own search result pages!
Here's how:
Search for a phrase that relates to your industry or niche, such as, let's say 'Search Engine Optimisation'.
Pick out the top result, and let's take a closer look:
A Google result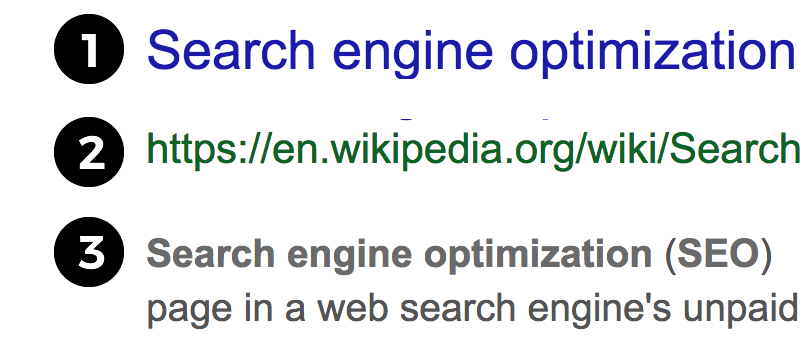 1

The Title Tag

The Title Tag is blue, between 50-60 characters in length, and sits at the top of each listing.

2

The URL

The URL comes next. This is the page's web address, and is displayed in green.

3

The META Description

The META Description is displayed in grey, and is usually between 150-160 characters long.
What determines Google Search Rank?
So, how does Google Search Rank work?
Chances are you've searched for that exact question in Google before.
When you did, you'll have seen literally hundreds of articles all looking to answer this exact question.
The truth?
It's complicated!
Like the Colonel's eleven secret herbs and spices, Google keep their page rankings algorithm under wraps.
However! Through the power of deduction, we have a better understanding of how it works.
Let me explain:
Google uses a bot called Googlebot to crawl the internet.
This bot:
Discovers new pages.
Updates existing ones.
As it does, it creates an index of all the content it finds.
This index is then run through a secret algorithm that scores every page based on its relevancy for certain terms.
Yes, every one!
When doing so, it looks at the following elements:
1

Content

Is website and page content relevant?

2

Performance

Is the site fast, snappy, and does it support mobile?

3

Authority

Is the website linked to from other websites?

4

User Experience

Is the website easy to use and navigate?
Google gives top spot to the most relevant website for a given term.
Sites that implement Search Engine Optimisation – like the techniques I'm about to outline – send the clearest signals to Google that, yeah, this site's kind of a big deal.
In turn? Its ratings and rankings receive a boost.
Choosing The Right Keywords
Choosing the right keywords is the most important decision your business will make.
No pressure, right?
Don't worry, this process doesn't have to be difficult.
I'm about to show you a quick and easy 3 step process that will have you researching, finding and deciding on your keywords in next to no time!
Looking For Keywords? Use This 3 Step Quick-Start Guide
1

Method #1: Check Out Your Competition

Let's face it: you competitors are ranking highly for a reason.

One is that they're using the right keywords in all the right places.

It's time to use this to your advantage!

Here's how:

Search Google for a phrase related to your business.

Make a note of the top results that appear in search.


Competitor's On-page Optimisation
Look over each page, and make note of the keywords and phrases being used throughout the page's:

Title Tags
Headings
Within their content
In their image ALT Tags
In their menus

Bonus Tip! Right-click and select 'View Source'. Look for keywords used within Titles and Meta Descriptions.

2

Method #2: User Forums

User Forums

No one knows what searchers are thinking better than the searchers themselves!

By browsing forums and social networks, you'll find the exact words they're using that relate to:

Your industry.
Your business.
Your products and services.

It's super simple, too. You just:

Open Google.

Enter in any of the following search terms:

[KEYWORD] + inurl:forum
[KEYWORD] + intitle:forum

Click through to any forums dedicated to topics relevant to your business.

Make a note of the words customers use when talking about you.


It's that easy!

3

Method #3: Keywordtool.io

Keywordtool.io

Are you struggling for ideas?

Then give Keywordtool.io a go.

It's a great tool for finding a wealth of new keyword you may not have thought of.

Using it is as simple as:

Open Keywordtool.io

Enter a keyword into the search bar

Select your country's search engine, and click the 'Search' icon.

Keywordtool.io will present a list of combinations that could be your key to unlocking search success.

Tip! Different locations will return different keywords, so it's worth repeating using a variety of locations.
What Is It?
The Title Tag is the text displayed along the top of the browser window or tab. It's also the first thing users see when searching.
In HTML, the title tag looks like:
<title>This is the text that appears in the top of the window</title>
While this is what it looks like in Google search:
Improving your title tags is one of the easiest changes you can make.
It's also the most important.
An optimised Title Tag makes it easier for Google and searchers to identify if your page is relevant to their interests.
How To Improve Your Search Rankings With Title Tags
Limit Titles To 59 Characters
Google only displays the first 50-60 characters of a title tag, so make the most of the room you have.
Include Keywords
Include keywords in your titles that relate to your industry as well as the contents of the page.
Make Your Titles Enticing
A Title Tag stuffed with keywords doesn't guarantee success, so make them enticing for users as well as Google. Instead of 'How To Market Your Business', try '5 PROVEN Ways To Market Your Business Online'. I know which one I'd click on!
Make Each Title Unique
Aim to be brief yet descriptive, with a unique Title Tag for each page on your website. If you're stuck for ideas, use one of the templates I've outlined below.
Mention Your Location
If your business operates within a country, city or region, tell search engines and users!
Use These Title Tag Templates To Get You Started
Home Page Templates:
Business Name | Keyword Phrase | Keyword Phrase
Home Page Examples:
Number Crunchers | Auckland Accounting Service Specialists
Fresh Flowers, Roses & Bouquets at Sunshine Petals NZ
Product & Service Page Templates:
Keyword Phrase, Location | Business Name or Keyword Phrase | Keyword Phrase | Business Name
Products & Services Examples:
#1 Xero Accounting Services, Auckland | Number Crunchers
Buy Gorgeous Roses Online | Bouquets | Sunshine Petals NZ
Title Tag Checklist
Do your Title Tags use an SEO optimised structure that puts keywords first?
Is there a consistent use of high-priority keywords throughout Title Tags?
Are all of your Title Tags unique?
Do your Title Tags use Location & Purchasing keyword variants like 'New Zealand' or 'Buy Online'?
Are your Title Tags enticing or exciting?
Step 2: Meta Descriptions
What is it?
The meta description is the text displayed in search engine results below the Title and URL of a page.
In HTML, a meta description looks like this:
<meta name="description" content="This is where the META description text goes">
While this is what a meta description looks like in Google search:
META descriptions are your opportunity to convince people to click on your link over a competitor.
Improve Your Search Engine Rankings With Meta Descriptions
Pick Your Top Pages
You won't have time to write unique META Descriptions for every page, so focus on important pages such as:
Your home page.
Product category pages.
Services pages.
Killer content or worthwhile resources.
As for the rest? Leave the Googlebot to grab relevant snippets from the text on these pages.
Tip: Don't re-use a generic META description. This duplicate content can do more harm than good.
Write A Unique Meta Description
Write a concise, unique META description that summarises the contents of the page, covering:
The services it offers.
The products it sells.
What the content is about.
Limit Descriptions To 320 Characters
With just 320 characters to work with, make the most of it.
Include Keywords & Locations
Include keywords and locations that are relevant to the page.
Invite People To Click!
A Meta Description is your chance to sell your page to users, so spice it up and appeal to their curiosity!
Use These Meta Description Examples To Get You Started
Number Crunchers NZ is a chartered accountancy firm providing Auckland small businesses with leading financial services. Call us today at 0800 111 222!.
or
Send flowers to friends and family with New Zealand's florist of choice. With guaranteed same day delivery available nationwide. Your first order is on us!
Meta Description Checklist
Do all important pages feature a META Description?
Are META Descriptions unique across the site?
Do META Descriptions use keywords relevant to the content on the page?
Are Meta Descriptions under 156 characters in length?
Step 3: Create Epic Content
What Is It?
Pinch me if you've heard this phrase before:
'Content is king!'
The thing is, it's true!
Content is one of the best ways to market your business, products and services directly to your target audience.
The easiest way to do this is by writing content for your website's blog.
But how does this increase your search rankings, exactly?
Oh, let me tell you the ways:
You can market your website and business with content relevant to your industry.
You can position yourself and your business as a leading authority within your industry.
You can build quality backlinks to your killer content that increase your rankings within search.
To Improve Your Search Engine Rankings With Content
Avoid Duplicate Content
Google hates duplicate content (that's content that appears on your site as well as elsewhere on the web). In fact, Google penalises sites that feature too much of it. The solution? It's simple: don't post copied content.
Remove Thin Content
Do you know what Google does love? Lengthy content! If your pages – and rankings – are looking a little thin, start writing.
Create Epic Content
Epic content positions your business as the go-to expert in your industry or niche. In fact, this very page itself could be considered an epic piece of content.
Content like this is a one-stop-shop resource on everything a user would want to know on a given subject, providing your business with even greater link building opportunities!
Start A Blog
Epic content is great, but it can take time to write.
That's why you should mix things up by blogging about relevant topics and keywords. Link these back to important pages when you're done, and you'll ensure your results are long-lasting.
Extra resources
Content Optimisation Checklist
Is there any duplicate content found on external sites or pages?
Does your site include a blog?
Do important pages feature 250-500+ words of content?
Does your site feature any cornerstone content or pillar pages related to Primary Keywords?
Are there any opportunities to turn existing downloadable content into on-site content or pages?
Are there any pages that target the same or similar keywords that would benefit from being consolidated into a single page?
Step 4: Add Internal Links
What Is It?
Internal Links are hyperlinks that link to other pages on your website.
See the menu on your site? This is just one example.
But hey, everyone has a boring old menu!
The trick here is to include internal links within the content of your pages wherever a relevant keyword is used.
For example, this one links to a page on SEO, while here's another that links to Content Marketing & Promotion.
By adding these links, visitors can jump to pages that explore a topic in more detail.
BONUS TIP!
Internal links are great, but they can always be better…
To get the best mileage, use relevant keywords.
Using 'Read More' or 'Find Out More Here' as the anchor text for internal links is a common mistake.
Stop!
Instead? Use keywords and phrases in your internal links. Your website's rankings will thank you for it!
A Bonus Tip For Your Bonus Tip: Text based hyperlinks and navigation are the best option, so avoid Javascript and image-based navigation where possible. 
Improve Your Search Engine Rankings With Internal Links
Add Internal Links To Your Most Important Pages
When adding internal links, focus on your most important product or service pages.
By doing this, you'll ensure users who arrive at your site are guided to the pages that matter most.
Internal Links Checklist
Are there internal links present on your site?
Do blog posts contain internal links to other posts & content on your site?
Do Product, Service or other pages link to other relevant pages on your site?
Step 5: Build Inbound Links To Your Website
What Is It?
Inbound links are links on sites across the internet that point to yours.
When it comes to your ranking in searches, these inbound links make all the difference.
In fact, Inbound Links are what the internet is built on.
These links are a great source of traffic, and tell Google that your site deserves to rank higher.
"If people are linking to it," says Google, "then it must be worth looking at!".
Improve Your Search Engine Rankings By Building External Links
Establishing inbound links is an ongoing task for any website owner. But by following these steps you too can start to build relevant, quality links to your site.
List Your Site With Business Directories
Business directories are free, easy to list with, and provide a great way to boost your local rankings.
Write For Blogs & Sites Within Your Industry
Writing for other sites within your industry is a great way to promote your business online.
You'll build your personal brand, increase your standing as a thought leader, and land a link back to your website!
Create a Free Google My Business Account
A Google My Business account is crucial for Local SEO, giving you the boost within local search results that your business needs to succeed.
Extra Resources:
Inbound Links Checklist
Do you have a Google My Business account?
Have you listed with relevant Business Directories?
Are you starting to write for relevant sites within your industry?
What Is It?
Heading tags tell Google that the text within – and to follow – is worth getting excited about!
Heading tags look like this in HTML:
<h1>This is a primary heading tag</h1>
<h2>This is a secondary heading tag</h2>
<h3>This is a tertiary heading tag</h3>
Improve Your Search Engine Rankings With Heading Tags
Would you believe that most pages don't use heading tags at all?
Crazy, right?!
Give yourself the edge and get Google excited about your content by:
Using <h1> tags for the titles of posts, pages or products.
Using <h2> tags for main headings.
Using a range of H3-H6 tags for sub-headings.
Heading Tags Checklist
Are H1-H3 tags present on all major pages?
Are Primary Keywords used in H1 Tags?
Are relevant and related keywords used in H2-H6 Tags?
What Is It?
You've probably seen a URL or two that looks something like this:
http://www.qjumpers.co.nz/QJumpers/SitePage.aspx?s=55&ss=251
Crazy numbers?
Odd characters?
It's a mess!
These URLs don't just negatively affect SEO, they can also scare users away when found in search.
But there is a better way!
Improve Your Search Engine Rankings With Clean URLs
Clean URLs ensure they're readable and descriptive, and maximise their use of keywords.
The reasons for doing this? They're threefold:
Users can read them and better identify pages they want to click on in search.
Google will bold keywords in URLs when they're searched for.
Google will give these pages a boost in visibility and rankings.
So when it comes to writing URLs, you should:
Keep them short and descriptive.
Use a hyphen '-' to separate each word.
BONUS TIP!
When you're revising URLs, remember to set up a 301 redirect to the new ones.
If you don't?
Anyone visiting the old address will run into a 404 Error Page, and search engines will penalise you for it.
URL Checklist
Do URLs include hyphens as separators?
Do URLs include keywords relevant to the page content?
Are there any unnecessary alphanumeric characters within the URLs?
Step 8: Use Descriptive Image & File Names
What Is It?
Google doesn't see an image or a file when you place it on your website.
Instead?
All it sees is basic information like ALT Tags and file names.
This is why you should use descriptive names and ALT Tags at every opportunity to help Google to:
Decide what your image or file is all about.
Ensure these are found when searchers use Google's File or Image Search.
Consider the following example:
You have a great diagram on your site that compares the differences in Accounting Software Packages.
Instead of a generic filename such as 'diagram.jpg', use something like 'Accounting-Software-Comparison.jpg'.
When users search Google Images for Accounting Software Packages, they'll be more likely to find your image and page.
Improve Your Search Engine Rankings With Optimised Image & File Names
Before you upload a file or image to your site, add a descriptive phrase or keyword! This takes all of a few seconds to do, and will ensure your files are optimised before they go live.
Image File Names Checklist
Do image files like .PNGs or .JPGs make use of relevant keywords?
Do files like .PDFs or .DOCs make use of relevant keywords?
What Is It?
There's one important thing to remember where your website and Googlebot are concerned.
Google and its crawling bots don't see your website in the same way humans do.
Instead? They only see the HTML code.
Take Wikipedia as an example!
You and I see it like this:
But Googlebot? It sees the code displayed below.
Unoptimised, messy, or improper HTML can bloat your code.
This pushes your actual text – which is full of those all important keywords – hundreds of lines down the page.
With more work for Googlebot to do, your rankings may suffer.
Thankfully, fixing this can be simple!
You just need to follow a familiar philosophy:
When it comes to websites?
Less is more!
Improve Your Search Engine Rankings With Clean Code
Avoid Bloated Navigation & Menu Options
Javascript and other code used for interactive elements such as menus can become bloated quickly, so try to keep things as simple as your design will allow.
Remove Unnecessary WordPress Plugins
WordPress plugins make it easy for anyone to set up a website, but too many can leave your site working overtime. Make a habit of removing any unnecessary plugins or extras that you no longer use.
Say No To Image-Heavy Website Design
Visual elements break up the dreaded wall of text, and provide visual interest for your users. But only to a point. Too many images can leave your page sluggish and unresponsive, hindering your chances of ranking higher in search.
Bonus Tip!
Use The W3C Validator To Check Your Code
To see if your website passes muster, enter your web address at W3C Markup Validation Service
Step 10: Improve Page Speed
What Is It?
Google's search algorithms are constantly updated to return the most relevant results in the shortest time possible.
This is just one reason why page speed is increasingly important.
If your page is slowed down by cumbersome plugins or large images? Your rankings will suffer.
Improve Your Search Engine Rankings By Optimising Your Page Speed
Analyse Your Page Speed
Load Google's PageSpeed Tool and select 'Run Insights' to run Google's PageSpeed test on your site. This will provide you with an easy-to-read report of your results.
Remove Unnecessary Javascript Or WordPress Plugins
Whether you created your website yourself, or had a professional do this for you, there are usually unnecessary added extras left around long after the web gurus have packed their tools away.
Either alone or with your web developer, run through your Javascript and WordPress plugins to identify any redundant ones that can be removed.
Optimise Image File Sizes
Large, high-quality images increase loading times, but you don't have to sacrifice quality for speed.
Tools like ImageOptim & Advance Projects will compress your images while keeping quality in tact.
What Is It?
Image ALT tags describe the contents of an image, and are displayed when you hover over an image or if it fails to load.
These Image ALT tags are also used heavily by Google.
Why?
Because Google can't actually see an image.
Instead, Google relies on the filename and ALT tag to determine what an image contains.
Improve Your Search Engine Rankings With Image Alt Tags
Add An ALT Tag To Your Images
Keyword-rich ALT tags won't just increase usability, they'll also further boost the signals your page sends to the Googlebot.
You'll also increase the chances of these images showing up within Google Image Searches.
Note: It it important you ensure that images are descriptive of the image, not only targeting keywords, just include them if you can.
Image ALT Tag Checklist
Do image ALT Tags make use of relevant keywords?
Do all images have ALT tags applied to them?
Do image ALT tags accurately describe the image i.e not only target keywords?
Step 12: Add An XML Sitemap
What Is It?
XML Sitemaps are used exclusively by search engines to speed up the process of indexing pages.
Think of them as an easy-to-follow map of your website!
With it, search engines can index your site quicker and easier.
Improve Your Search Engine Rankings By Adding An XML Sitemap
Add An XML Sitemap To Your Site
Head to XML Sitemaps to generate an XML sitemap for your site.
Once you have this? Submit it to:
XML Sitemap Checklist
Is there a Sitemap.xml file present?
Have you submitted this Sitemap.xml file to Google and Bing?
Step 13: Add An HTML Sitemap
What Is It?
HTML Sitemaps provide users with a quick and easy method of navigating your site.
But the benefits don't end there!
Search engines see them as a sign of usability, which is an increasingly important metric for your site's online visibility.
Improve Your Search Engine Rankings By Adding An HTML Sitemap
Add An HTML Sitemap To Your Site
Head back to XML Sitemaps, and generate an HTML Sitemap. From here, add this as a new page on your site, and then link through to it from your 404 Error Page.
HTML Sitemap Checklist
Is there an HTML Sitemap present?
Does this HTML Sitemap link to all pages on the site?
Step 14: Custom 404 Error Page
What Is It?
A 404 Error Page is where users arrive when a URL can't be reached.
Maybe you removed a page?
Or perhaps you updated a URL without a 301 redirect?
Either way, a 404 page is a crucial component of your website's usability.
Instead of hitting a brick wall, a good 404 page will help users find their way and guide them to important pages you know they want to see.
Improve Your Search Engine Rankings By Creating A 404 Error Page
Like Sitemaps, 404 Error Pages send usability signals back to Google which help your SEO overall.
When it comes to your 404 page? You should:
Maintain A Consistent Design
A 404 Error Page that looks different to your regular site only increases the feeling of being lost.
Include Navigation Options
When a user stumbles onto a 404 Error Page, they'll either leave or try and find the page they were looking for. By adding a list of quick links, you'll make it easier for them to find their way and ensure they stick around.
Error Page Checklist
Is there a 404 Error Page present?
Is the 404 Error Page consistent with the design & layout of the site?
Does the 404 Error Page feature the same navigation & menu options as the rest of the site?
Does the 404 Error Page contain helpful, readable text that guides users to relevant pages?
Does the 404 Error Page feature links to all major pages (Home / Products / Categories)?
Does the 404 Error Page feature a link to the HTML Sitemap?
What Is It?
Yep, you guessed it!
Website breadcrumbs work just like they do in the age-old fairytale of Hansel and Gretel.
That is, they give users a visual representation of where they came from and where they are now.
This trail is shown as a set of links at the top of the page, boosting your site's internal links and it's usability, too.
Improve Your Search Engine Rankings By Adding Breadcrumbs
Add Breadcrumbs To Your Website
Check out some of these WordPress plugins that will add breadcrumbs to your website:
What Is It?
More than a desktop or laptop, where do you do most of your web browsing?
If you said 'My mobile!' then you're not alone!
In fact, an average of 40% of web visitors are using mobile devices. With up to 30% using tablets!
As a result, Google penalises sites that aren't responsive or mobile friendly.
So if you don't have a mobile-friendly version of your site, now's the time to get one!
Because without it?
Every other step may prove ineffective.
You can quickly and easily check the responsiveness of your website with the Google Webmaster Tools.
Just:
Enter your website's address into the text box.
Click 'Analyse'.
Improve Your Search Engine Rankings With A Responsive Website
Talk To Your Developer Or Tech Specialist
Get in touch with your developer or tech guru and ask them about making your website mobile friendly.
Use One Of These WordPress Plugins
If your website runs on WordPress? There are a number of free & paid plugins available that will do this for you!
Use A Responsive WordPress Theme
Use a WordPress theme that includes a responsive version designed specifically for mobile devices.
Step 17: Keyword Rich Domain Name
What Is It?
A Domain Name is the URL people type into their address bars to get to your site
If this includes relevant keywords, then you might have an easier time ranking for these phrases.
Woah there!
Slow down!
Before you run off and register a keyword-rich domain name, keep the following lesson in mind:
Keyword rich domains do play their part, but you need to balance SEO and overall business branding.
Just because your domain name isn't 'www.AucklandAccounting.co.nz' doesn't mean your rankings dreams are over.
Far from it in fact…
A recognisable name and cohesive branding are far more important for your business in the long run!
Tip: Don't buy a bunch of domains full of keywords and redirect them to your site! This actually does more harm than good.
Improve Your Search Engine Rankings With A Domain Name
Include Keywords Within Your Domain Name
Adding keywords to your domain name can make it easier to rank in search faster than other sites.
When registering a name, think of logical ways you could include keywords but don't go overboard.
A domain name stuffed with keywords will confuse users and tip Google off to your overzealous SEO strategy.
Domain Name Checklist
Does your website include a relevant keyword?
Does your website use a relevant extension such as '.co.nz' or '.com.au'